Newer posts are loading.

You are at the newest post.
Click here
to check if anything new just came in.
Bunions Causes And Cures
Overview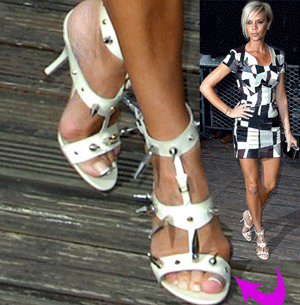 A bunion or hallux abducto valgus occurs when your big toe points toward your second toe. The big toe will touch the second or causes the second toe to overlap the big toe. This causes a boney bump to appear on the outside edge of your big toe. Bunions are more common in women and can sometimes run in families. Hallux abducto valgus can develop as a result of an inherited structural defect or stress on your foot or due to a medical condition such as arthritis. If there is an underlying structural defect in your foot this can lead to compensations causing stresses and pressures to be applied unevenly on the joints and tendons in your feet. This imbalance in pressure and stress makes your big toe joint unstable. Over time this causes the medial side of the 1st metatarsal head to develop excess bone that protrudes out beyond the normal shape of your foot. The size of the bunion can get larger over time which causes further crowding your other toes and causing pain. Pain from a bunion can be severe enough to keep you from walking comfortably in normal shoes. The condition may become painful as the bump gets worse, and extra bone and a fluid-filled sac (bursa) grow at the base of the big toe. By pushing your big toe inward, a bunion can squeeze your other toes into abnormal positions. This crowding can cause the four smaller toes to become bent or a claw-like in shape. These bent toes are known as hammertoes. Smaller bunions called ?bunionettes? can also develop on the joint of your 5th toe.
Causes
Bunions are a common problem experienced mostly by women. The deformity can develop from an abnormality in foot function, or arthritis, but is more commonly caused by wearing improper fitting footwear. Tight, narrow dress shoes with a constrictive toe box (toe area) can cause the foot to begin to take the shape of the shoe, leading to the formation of a bunion. Women who have bunions normally wear dress shoes that are too small for their feet. Their toes are squeezed together in their shoes causing the first metatarsal bone to protrude on the side of the foot. It is important for men and women to realize that wearing dress shoes and boots, which are tapered in the toe area, can cause the bunion to worsen to the point where surgery is necessary.
Symptoms
The most obvious symptoms of a bunion are. Pain in the area of the MTP joint, the joint where your big toe connects to your foot. Bending of the big toe in towards the other toes. An enlarged bump of bone or tissue at the MTP joint. Each symptom can range in degree from small to severe. Sometimes the pain can be sufficient to make it difficult to walk in normal shoes. Other symptoms may include. Swelling and inflammation of the skin around the MTP joint. Thickening of the skin in the area of the joint. Restricted motion in your big toe. Pressure from the inward bending of your big toe can affect your other toes, leading to corns on your smaller toes. Ingrown toenails on the smaller toes. Development of hammertoes in the other toes. Calluses on the bottom of your foot. If you have any of these symptoms, especially pain, displacement of your big toe or development of a bulge, you should consider consulting your physician. Even if you're not significantly bothered by some of these symptoms, bunions tend to continue getting bigger and more serious over time and should be taken care of before they do so.
Diagnosis
Before examining your foot, the doctor will ask you about the types of shoes you wear and how often you wear them. He or she also will ask if anyone else in your family has had bunions or if you have had any previous injury to the foot. In most cases, your doctor can diagnose a bunion just by examining your foot. During this exam, you will be asked to move your big toe up and down to see if you can move it as much as you should be able to. The doctor also will look for signs of redness and swelling and ask if the area is painful. Your doctor may want to order X-rays of the foot to check for other causes of pain, to determine whether there is significant arthritis and to see if the bones are aligned properly.
Non Surgical Treatment
There is a wide rage of treatment options for those who suffer from bunions. If the bunion is mild and does not require bunion surgery, resting the foot and avoiding excessive exercise or walking will help. Wearing shoes that have a wider toe opening, including sandals, can relieve the rubbing and irritation that comes along with more confining shoes. High-heeled shoes should be avoided as they push the big toe outward and can inflame the joint of a bunion. Anti-inflammatory medications (aspirin, ibuprofen, etc.) usually ease inflammation and target pain as well. If the bunion does become inflamed and irritated, application of an ice pack can reduce swelling and pain. If the inflammation because excessive, cortisone can be injected at the site of the bunion to reduce the swelling at the joint of the big toe.
Surgical Treatment
Surgery isn't recommended unless a bunion causes you frequent pain or interferes with your daily activities. If conservative treatment doesn't provide relief from your symptoms, you may need surgery. There are many different types of surgical procedures for bunions, and no particular bunion procedure is best for every problem. If the bunion gets worse and more painful, surgery to realign the toe and remove the bony bump (bunionectomy) can be effective. Most surgical procedures include a bunionectomy, which involves. Removing the swollen tissue from around your big toe joint. Straightening your big toe by removing part of the bone. Realignment of the 1st metatarsal bone to straighten out the abnormal angle in your big toe joint. Permanently joining the bones the 1st metatarsophalangeal joint. It's possible you may be able to walk on your foot immediately after a bunion procedure. However, full recovery can take up to eight weeks or longer with some bunion procedures. To prevent a recurrence, you'll need to wear proper shoes and a foot orthotic after recovery. No surgical procedure is without risk and you may still have pain or you could develop a new bunion in your big toe joint after surgery.
Prevention
Make better shoe choices. If you?re a woman, avoid high-heeled footwear whenever possible (at the very least, choose shoes with heels lower than two inches), and make sure all your footwear has a wide, deep toe box. Whether man or woman, if you?re trying on shoes and your toes feel ?squished? or crowded by a particular shoe, reject that style and try another, or go for a larger size. You don?t need to invite trouble. In general, shoes that come to a point at the toe are bad news, as they tend to push the toes together into an overlapping pattern. Shoes with rocker soles will unload pressure on the bunion area. Examine your feet regularly. Note any redness, swelling or discoloration. Flex your toes and check for any stiffness. If there is any, think back to what you?ve worn or done in the past few days. If the condition persists more than a few days, or worsens, a visit to the podiatric physician is in order.